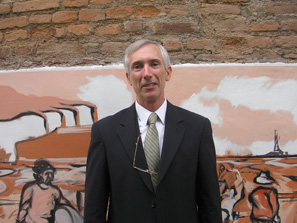 Il 20 luglio 2008 il Sindaco di Cuggiono ha conferito la cittadinanza onoraria a due figli di cuggionesi che si sono distinti nel mondo professando la loro origine.
Uno di loro è Mark Spezia, l'altro Vittorio Volpi.
Mark Louis Spezia è nato a Detroit - MI il 18 novembre 1953 da Louis Cesare e Mary Julia Spezia.
Ha vissuto e studiato nel Michigan ed in California laureandosi "Baccelliere in Scienze" nel 1980 e conseguendo il Master della Pubblica Amministrazione Statunitense nel 1986.
Nell'esercito, nell'aeronautica e nella guardia costiera americana ha ricoperto vari incarichi dal 1972 al 1998 come pilota ed istruttore di elicotteri ed aerei anche in missioni estere, raggiungendo il grado di Maggiore.
Dal 1998 è Comandante pilota delle linee internazionali della Delta Air Lines con base a New York, volando spesso anche a Malpensa. E proprio approfittando di questi voli, Mark, fiero della propria origine cuggionese, nell'inverno del 2000 ogni sabato mattina si aggirava nei viali del cimitero cuggionese con uno zainetto in spalla fermando le persone e chiedendo loro, in Inglese, notizie delle famiglie Spezia di cui stava fotografando le tombe.
Su una di esse aveva anche lasciato un messaggio sperando che qualcuno lo raccogliesse e gli rispondesse. Le ricerche di Mark hanno avuto esito positivo, come riportato dal Corriere della Serra e da altri giornali locali, nella primavera del 2001 quando, via e-mail, ha scritto al Museo Storico Civico Cuggionese :
"Sto cercando di ricostruire la storia della mia famiglia; mio nonno Giovanni Spezia nacque a Cuggiono nel 1889, emigrò a Detroit nel 1905 e nel 1914 mia nonna Maria Cucchi lo raggiunse.
In America si sposarono ed ebbero tre figli : Baldassarre, Louis (mio padre) e Catherine.
Io viaggio spesso per lavoro ed ho visitato diverse volte Cuggiono : le persone sono molto gentili, ma io non parlo Italiano e non sono mai riuscito a sapere molto. Però sono stato e sono felice di camminare per le strade che mio nonno percorreva da bambino".
Con l'aiuto del direttivo del Museo è stata rintracciata la cugina, allora vivente, del nonno: Caterina Spezia Nebuloni, che Mark ha felicemente incontrato e conosciuto nel maggio 2001.
Da allora è stato un crescendo di collaborazione con gli amici del museo nell' assistere nipoti e pronipoti di emigrati cuggionesi che dagli USA chiedevano e chiedono notizie delle famiglie dei propri antenati. Assiduo ricercatore e costruttore di alberi genealogici con gli amici del museo nell'archivio parrocchiale di Cuggiono, ha dato enfasi a questa attività e lustro alla nostra cittadina.
Grande estimatore di Cuggiono e dei Cuggionesi, ha redatto in varie fasi e con lunghe ricerche un interessante e ben strurrato CD sulla nostra comunità con ogni genere di informazione e centinaia di fotografie. Interpellato da chi è in procinto di visitare Cuggiono dagli USA, fornisce indicazioni e raccomandazioni inviando gratuitamente copia del CD.
Spostandosi dal Maine al Missouri, al Michigan e nell'Illinois spesso assiste i Cuggionesi, fra cui il gruppo del maggio 2005, che visitano St.Louis, Detroit e Herrin.
Sposato con Mary Kathleen (Walsh) di St. Louis - MO, vive con la famiglia a Eliot, nel Maine ed ha 4 figli che frequentano là le loro scuole: John Louis (nato nel 1991), Sarah Margaret (1993), Anne Marie (1997) e Paul Robert (2000).
Ha dato lustro alla nostra comunità ed ha contribuito a diffondere con ogni mezzo nei discendenti dei nostri emigrati il desiderio di saperne di più, di visitarci, di riallacciare antichi rapporti e di riscoprire felicemente lontane parentele assopite.
Il Comune di Cuggiono si onora di iscrivere Mark Spezia tra i suoi Cittadini.
Comune di Cuggiono, Luglio 2008
Ernesto R Milani
Ernesto.milani at gmail.com
23 luglio 2008
On July 20, 2008, the Municipality of Cuggiono has awarded honorary citizenship to Mark Spezia in recognition of his attachment to his Cuggionese roots and the affection for its community that he continues to stimulate among the descendants of Cuggionese migrants to the United States of America.
Mark Louis Spezia was born in Detroit, Michigan on 18 November 1953 to Louis Cesare and Mary Julia Spezia. He has lived and studied in Michigan and in California obtaining his Bachelor of Science in 1980 and his master in US Public Administration in 1989.
He held several positions in the American army, air force and coast guard from 1972 till 1998 as a pilot, helicopter and aircraft instructor also in foreign missions and reached the rank of Major.
He has been a New York – based captain of Delta Airlines since 1998, often flying into Malpensa.
Mark, proud of his Cuggionese roots, took advantage of these flights and during the winter of the year 2000 every Saturday morning he wandered around the paths of the cemetery of Cuggiono with a backpack on his shoulder and stopping people asking them, in English, information about the Spezia family whose tombs he photographed.
He even left a message on one of them hoping that somebody would pick it up and answer him. Mark's research proved effective, as reported by "Il Corriere della Sera" and other local papers, in the Spring of 2001, when he e-mailed the Museo Storico Civico Cuggionese :
"I am trying to reconstruct the history of my family : my grandfather Giovanni Spezia was born in Cuggiono in 1889, migrated to Detroit in 1905 and was reached by my grandmother Maria Cucchi in 1914.
They got married in America and had three children : Baldassarre, Louis ( my father) and Catherine. I often travel on business and I have visited Cuggiono several times : People are friendly, but I don't speak Italian and I have not been able to learn much. However, I have been, and still am happy to walk the streets that my grandfather walked as a child".
A surviving cousin of his grandfather, Caterina Spezia Nebuloni, has been tracked down with the help of the people of the Museo. Mark has happily met with her in 2001.
This began a growing collaboration between the friends of the Museo and the grandsons and great-grandsons of Cuggionese migrants who inquired and still inquire about their forefathers. A diligent researcher and family tree maker with his friends of the Museo in the parish archives of Cuggiono, he has emphasized this activity and given prestige to our town.
A great admirer of Cuggiono and the Cuggionese, he carried out extensive research at different stages and has compiled an interesting and well structured CD about our community with information of all kind and hundred photographs. When people planning to visit Cuggiono contact him in the USA, he supplies data and suggestions by sending the CD free of charge.
Travelling from Maine to Missouri, Michigan and Illinois he often assists the Cuggionese, like the group of May 2005, who are visiting St. Louis, Detroit and Herrin.
He is married to Mary Kathleen ( Walsh) of St. Louis, Missouri and lives in Eliot, Maine where his four children attend local schools : John Louis ( born in 1991), Sarah Margaret ( 1993), Anne Marie ( 1997) and Paul Robert ( 2000).
He has enhanced the prestige of our community and contributed to stimulate in every possible way the desire in the descendents of our migrants to know more about it and visit us, to reconnect and rediscover old almost forgotten relationships.
The municipality of Cuggiono is honored to register Mark Louis Spezia among its citizens.
Cuggiono, July 2008
Translated by Ernesto R Milani
Ernesto.milani at gmail.com
23 luglio 2008